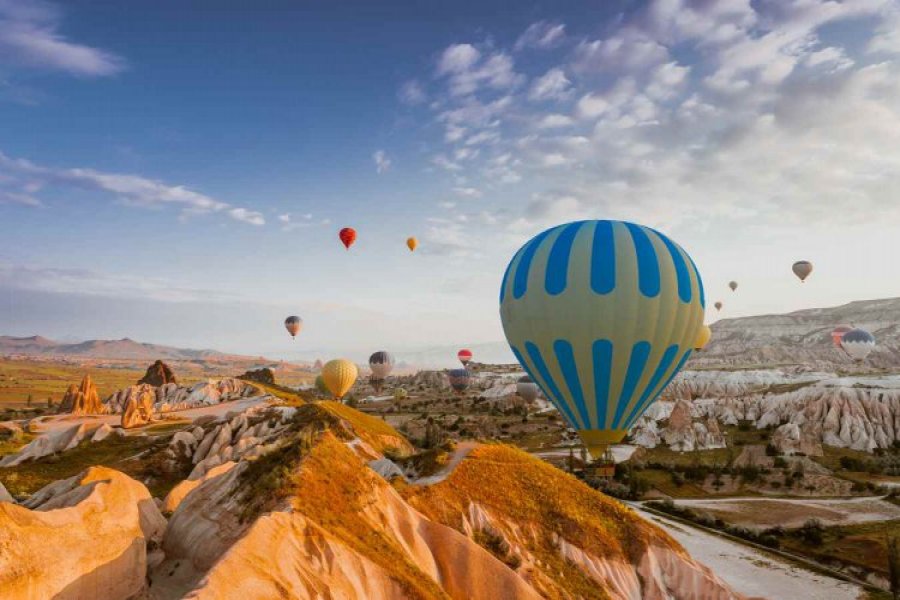 Cappadocia located in Nevsehir is one of the important tourism centers of Turkey. Fairy chimneys in Cappadocia attracts attention both local and foreign tourists. It is also a holiday zone that newlywed couples prefer very much for their honeymoon holiday.
One of the best activities in Cappadocia is to make a balloon tour. You can take part in the balloon tours that we organize and have unforgettable moments. We have very well trained and experienced team of pilots. Our land crew is very qualified on take off and landings also on safety regulations. We fly with the finest balloons produced via latest technology. We give detailed safety briefing to our passengers before and during each flight. For this reason, you may feel very safe during the balloon tour.
Full passenger insurance, pick up and drop off service, snacks and beverage service before the flight, minimum flight time of 60 to 70 minutes, champagne party after the flight, flight certificate, V.A.T. (incl.) are included in our tour.
Balloon tour can be made every day of the week if the weather is nice. It is possible to cancel the flight if the weather is not suitable for a safe flight. If the flight is cancelled due to poor weather, you will be given the option of an alternative date or a full refund.
A vacation in Cappadocia is an opportunity to spend a lot of good times with your family or loved ones. Cappadocia offers you very pleasant moments with naturally formed fairy chimneys, balloon tours and beautiful places. As Popular Travel Istanbul company, we organize tours for you in the magical environment of Cappadocia and we inform you about the places that you have visited through our professional guides. You can get more detailed information by contacting us.