Cevahir
Address: Büyükdere Cad. No: 22, Şişli
Phone: (212) 380 1352
Website: www.istanbulcevahir.com
Profilo
Address: Cemal Sahir Cad. No: 6-28, Mecidiyeköy
Phone: (212) 216 4400
Website: www.pam.com.tr
Akmerkez
Address: Nispetiye Cad. Ulus / Etiler
Phone: (212) 282 0170
Website: www.akmerkez.com.tr
Kanyon
Address: Büyükdere Cad. No: 185, Levent
Phone: (212) 353 5300
Website: www.kanyon.com.tr
Metrocity
Address: Büyükdere Cad., 1.Levent
Phone: (212) 344 0660
Website: www.metrocity.com.tr
İstinye Park
Address: İstinye Bayarı Cad., İstinye
Phone: (212) 345 5555
Capitol
Address: Mahir İz Cad. , Altunizade
Phone: (216) 554 7777
Website: www.capitol.com.tr
Carousel
Address: Halit Ziya Uşaklıgil Cad. No: 1, Bakırköy
Phone: (212) 570 8434
Website: www.carousel.com.tr
Ali Muhittin Hacı Bekir (Eminonü)
Address: Hamidiye Cad. No: 83, Eminönü
Phone: (212) 522 0666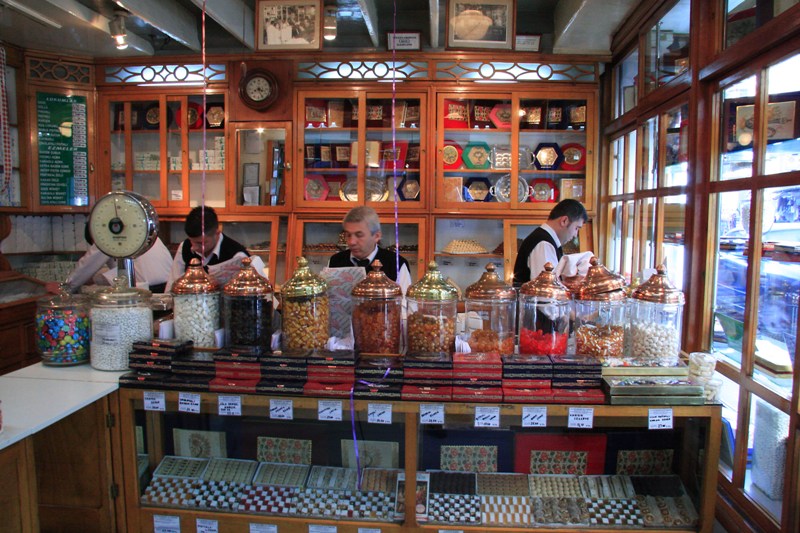 Ali Muhittin Hacı Bekir (Taksim)
Address: İstiklal Cad. No: 127, Beyoğlu
Phone: (212) 244 2904
Jazz, Rock or Pop Music Cafés
Babylon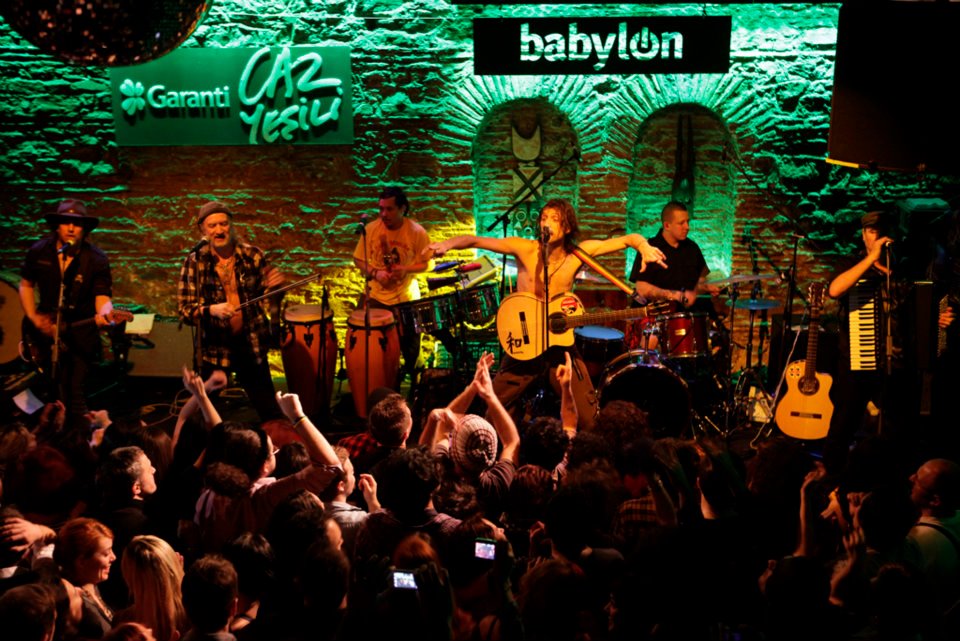 Address: Şeyhbender Sk. No: 3 Asmalımescit, Tünel
Phone: (212) 292 7368
Website: www.babylon.com.tr
Ghetto-Genuine Music Lounge
Address: Kalyoncu Kulluk Cad. No: 10, Beyoğlu
Phone: (212) 251 7501
Website: www.ghettoist.com
Hayal Kahvesi
Address: Büyükparmakkapı Sk. Afrika Han No: 19, Beyoğlu
Phone: (212) 244 2558
Website: www.hayalkahvesibeyoglu.com
Indigo
Address: Gümüssuyu Mah. Osmanlı Sk. Alara Han No: 11/10, Taksim
Phone: (212) 244 8567
Website: www.indigo-istanbul.com
Nardis Jazz Club
Address: Kuledibi Sk. No: 14, Galata
Phone: (212) 244 6327
Website: www.nardisjazz.com
Revan Pera
Address: Evliya Çelebi Mah. Refik Saydam Cad. No: 15/A, Beyoğlu
Phone: (212) 243 6565
Website: www.revan.com.tr
Riddim
Address: Sıraselviler Cad. No: 69/1, Taksim
Phone: (212) 251 2723
Website: www.riddim.com.tr
Studyo Live
Address: Atıf Yılmaz Cad. No: 17/A, Beyoğlu
Phone: (212) 244 7712
Website: www.studiolive.com.tr
Q Jazz Bar
Address: Muallim Naci Cad. No: 168, Kuruçeşme
Phone: (212) 359 1582
Website: www.lesottomans.com
Food & Drinks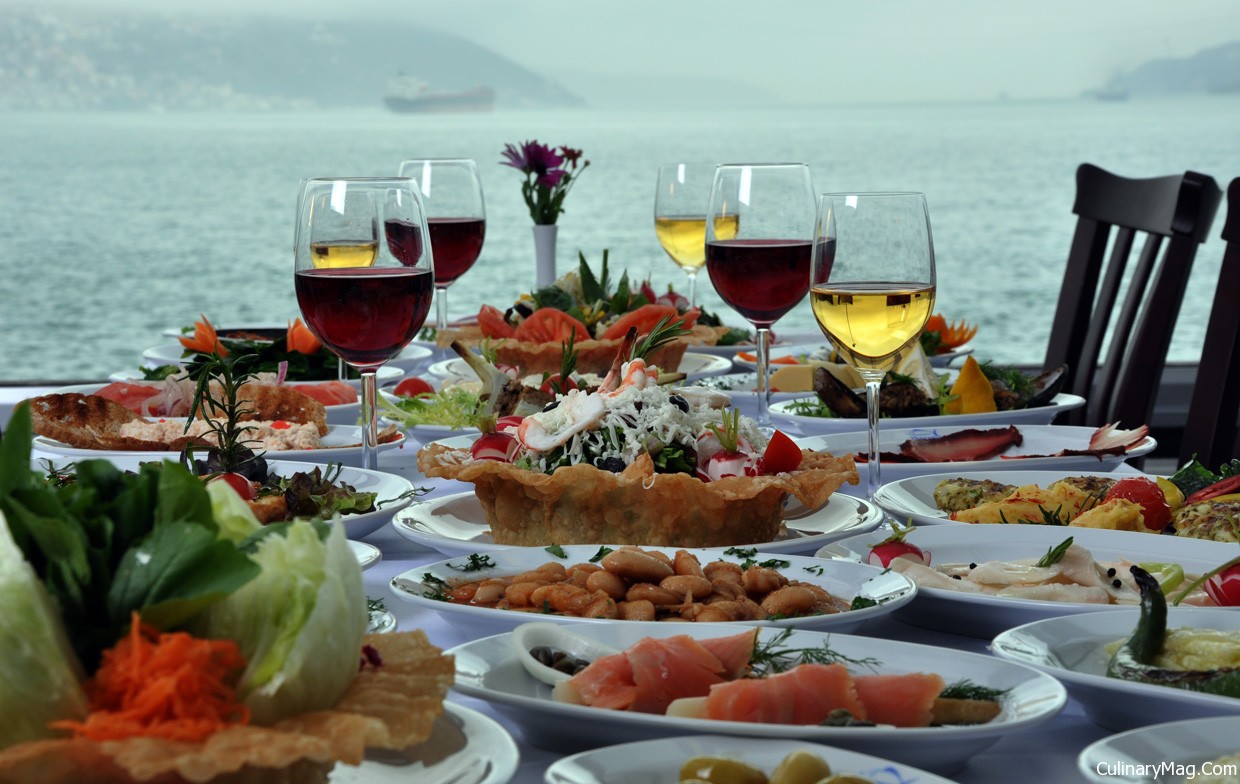 Turkish Cuisine is considered to be among the best in the world. So many civilizations, so many styles, and the abundant food supply contribute to today's cuisine.
"Afiyet olsun!" is an expression used to wish that a meal be enjoyed. Unlike other cultures, the expression is used both before and after the meal.
When anybody wants to express apperception about food prepared by someone else, he says "Elinize sağlık!" which means "May God give health to your hands". When proposing a toast, the expression "Şerefe!" is used which literally means "to your honor!".
LOKANTA (RESTAURANT)
This kind of restaurant is typically Turkish and offers home-cooking style food. From a selection of meals, it is possible to go to the window and choose whatever you like.
Güveç is any kind of meat prepared in a casserole.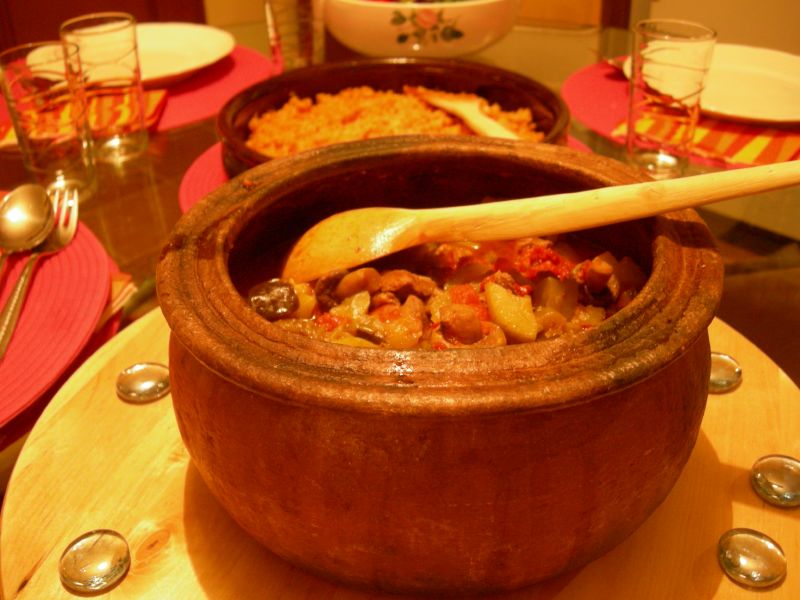 Bulgur Pilavı is cooked pounded wheat.
Dolma is stuffed vegetables, usually grape leaves, peppers, eggplants, cabbage leaves or mussels filled with rice, minced meat and raisins.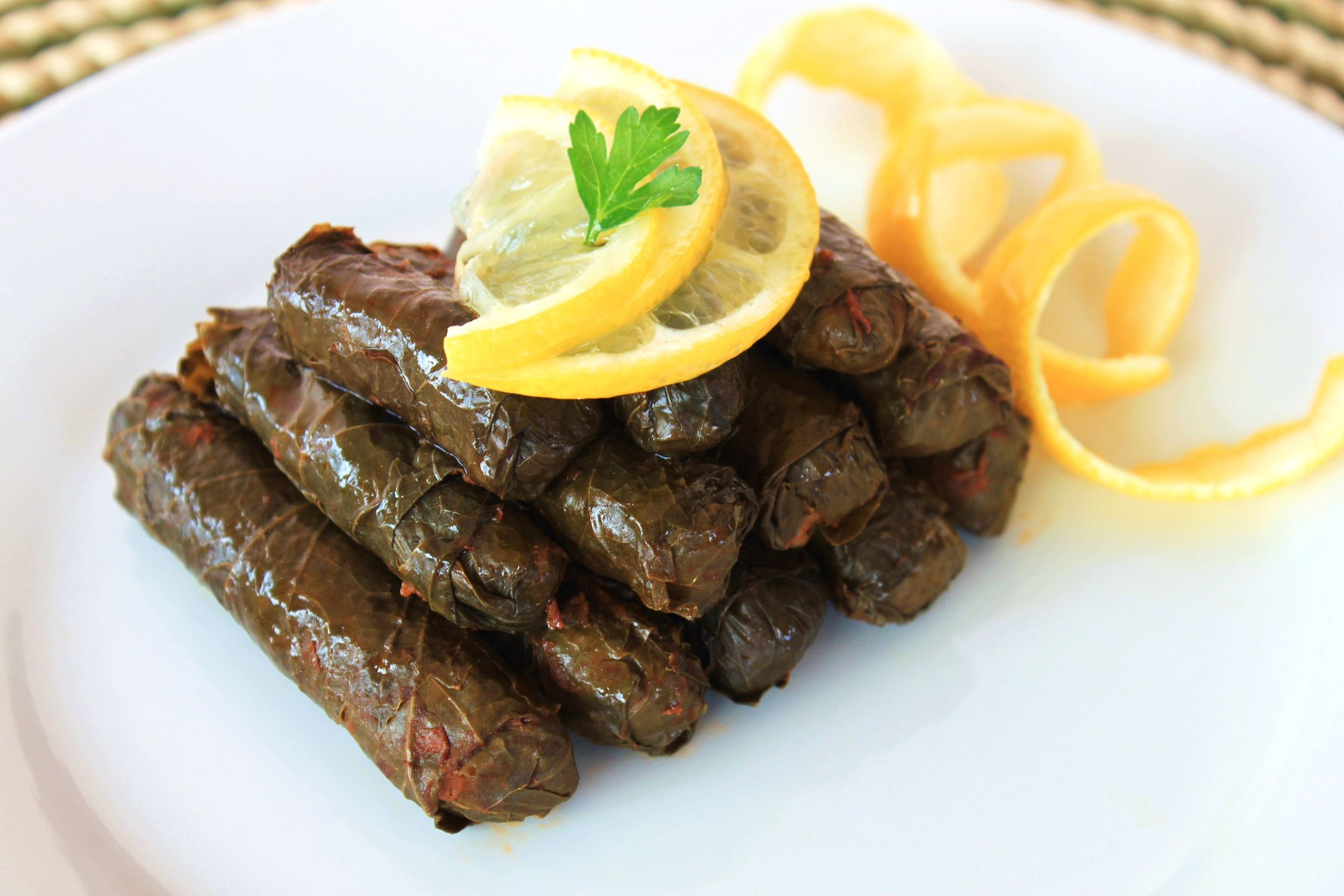 Hünkâr Beğendi is Sultan's Delight. It is simply chopped lamb pieces served on eggplant puree.
Musakka is a very common eggplant dish with ground meat.
Karnıyarık is stuffed eggplant.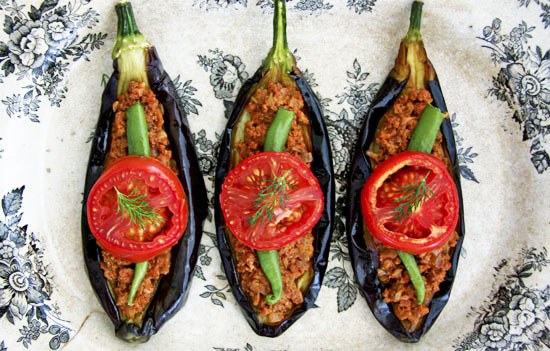 Meatballs, vegetables or liver are among traditional Turkish food. Offal; nothing is wasted; on the contrary offal plays and important role in Turkish Cuisine. Tripe, head, trotter, brain, tongue, intestine and liver are among the most common.
SPICES
Spices play a very important role in the Turkish Cuisine. Here is a list of common spices and herbs:
| | | | | |
| --- | --- | --- | --- | --- |
| Adaçayı | Sage | | Kırmızı Toz Biber | Paprika |
| Anason | Aniseed | | Kişniş Otu | Coriander |
| Biberiye | Rosemary | | Kuş Burnu | Rose Hip |
| Çörekotu | Black Cumin | | Mercanköşk | Marjoram |
| Çöven | Soapwort | | Nane | Mint |
| Defne | Bay Leaf | | Roka | Rocket Leaf |
| Dereotu Tohumu | Dill | | Safran | Saffron |
| Hardal | Mustard | | Salep | Orchid |
| Hindistan Cevizi | Nutmeg | | Sumak | Sumac |
| Ihlamur | Linden | | Tarçın | Cinnamon |
| Karanfil | Clove | | Tere | Cress |
| Kekik | Thyme | | Vanilya | Vanilla |
| Kimyon | Cumin | | Yeni Bahar | Allspice |
| Kına | Henna | | Zencefil | Ginger |
| Kırmızı Biber | Red Pepper | | | |
KEBAPÇI
This is the place where kebaps are sold. Kebap is roasted, broiled or grilled meat prepared in many different ways, each of them named by adding a word to kebap; döner kebap, şiş kebap, patlıcan kebap, etc.
Şiş Kebap is cubes of marinated chicken or lamb meat on skewers. Meat on skewers is grilled in a barbecue.
Adana Kebap is barbecued spicy meat mounted on a wide skewer. This is ground lamb meat that is mixed with fat from lamb's tail.
Urfa Kebap is very similar but it is not spicy.
Köfte is grilled or fried meatballs.
Döner Kebap is lamb meat roasted on a revolving spit.
FARINACEOUS FOOD RESTAURANTS
These differ from Italian Pizza to Turkish farinaceous foods such as "börekçi", "pideci", "lahmacuncu", "mantıcı" or "simitçi", etc.
Börek is layers of pastry filled with cheese, eggs, vegetables, or minced meat, then fried or baked.
Gözleme is very common in rural areas; it is thin dough (phyllo dough) filled with cheese and parsley or anything you like, and baked on a thin iron plate placed in a wood or charcoal fire.
Pide is a thick dough base filled or covered with any combination of meat, cheese, mushroom, eggs, etc. It is quite similar to pizza but served with butter and grated cheese.
Lahmacun is a thin round dough base covered with a spicy mixture of minced lamb meat, onions, tomatoes and parsley.
Mantı is a kind of pasta filled with minced lamb meat and served with yogurt, garlic and butter on top. Mantı is usually eaten as a main dish.
Simit is circular crisp bread covered with sesame seeds, and is very common in Turkey. Simit is generally eaten plain, or for breakfast with cheese and tea. It is often sold by street vendors from pushcarts, or it is carried on a tray that they put on their heads.
MEYHANE & FISH RESTAURANTS
These restaurants serve proper dinners. First, a large variety of "soğuk meze" (cold appetizers/ hors d'oeuvres) are offered on a big tray from which you can choose few, and then you should sample a few "sıcak meze" (hot starters) before the main dish. The main dish will be either fish or meat. After having dessert or fruit, as the locals do, it is time to drink a cup of Turkish coffee.
Meze:
Yoghurt is very important in Turkish Cuisine. The word yoghurt or yogurt is derived from Turkish word yoğurt. It comes plain or with garlic. Many of the mezes are served with yoghurt.
Pilaki is beans cooked with garlic, tomato paste, carrot and olive oil.
Cacık is yoghurt with garlic, grated cucamber, dried mint and just a few drop of olive oil.
Dolma is stuffed vine leaves, cabbage leaves, chard, peppers, zucchini or eggplant. If it is made with olive oil and no meat, then it is a meze.
Arnavut Ciğeri meaning Albanian liver is fried liver. It is served with onions and parsley.
Fava is mashed broad beans.
Çerkez Tavuğu meaning Circassian chicken is poached chicken with walnut sauce.
Humus is mashed chickpeas with sesame, garlic, olive oil, lemon juice.
Haydari is thick yogurt with garlic spread.
Köz Biber is barbecued red peppers with garlic and vinegar.
Acılı Ezme is hot spicy freshly mashed tomato spread with onion and green herbs.
Kısır is prepared with bulgur (pounded wheat), tomato paste, parsley, onion, garlic, sour pomegranate juice and lots of spices.
Piyaz is bean salad with onions and tomatoes.
Patlıcan Salatası is eggplant salad and served in various ways. Barbecued eggplant is mashed and served with olive oil and parsley. Barbecued eggplant is chopped and mixes with onions, garlic, tomatoes and parsley. It is served with yoghurt.
Babaganuş is a kind of eggplant salad also.
Şakşuka is fried eggplant with tomato sauce.
Roka Salatası is rocket leaf salad.
"Sıcak Mezes" (Hot starters) are served before the main couse. Among them are fried mussels or squids, shrimps, various kinds of "börek", fried potatoes, etc.
| | |
| --- | --- |
| Ahtapot | Octopus |
| Alabalık | Trout |
| Barbunya (Mullus barbatus) | Red Mullet |
| Çinakop | Younger Blue Fish (smaller than Sarıkanat) |
| Çipura (Sparus aurata) | Gilthead Sea Bream |
| Çiroz | Dried Mackerel |
| Deniz Kestanesi | Sea urchins |
| Dil Balığı (Solea solea) | Sole |
| Fener (Lophius piscatorius) | Angler |
| Gümüş Balığı ( Atherina presbyter) | Sand Smelt |
| Hamsi (Engraulis encrasicolus) | European Anchovy |
| Havyar | Caviar |
| İskorpit, Lipsos (Scorpaena porcus) | Scorpion Fish |
| Istakoz | Lobster |
| İstavrit (Scomber trachurus) | Horse Mackerel (Mediterranean) |
| İstiridye | Oyster |
| İzmarit (Spicara smaris) | Picarel |
| Kalamar | Squid |
| Kalkan (Rhombus maximus) | Turbot |
| Karagöz (Sargus rodeleti) | Sea Bream (black) |
| Karides | Shrimp |
| Kefal (Mugil cephalus) | Flathead Mullet |
| Kerevit | Crawfish |
| Kılıç (Xiphias gladius) | Swordfish |
| Kırlangıç (Trigla Hirundo) | Tub Gurnard |
| Kofana | Large Blue Fish |
| Kolyoz | Spanish Mackerel |
| Levrek (Dicentrarchus labrax) | Sea Bass |
| Lüfer (Pomatomus saltator) | Blue Fish |
| Mercan (Pagellus erythrinus) | Pandora |
| Mersin Balığı (Acipenser sturio) | Sturgeon |
| Mezgit (Merlangius merlangus) | Whiting (Chicken Fish) |
| Midye | Mussel |
| Orfoz (Epinephelus guazza) | Grouper |
| Palamut (Sarda sarda) | Bonito, Atlantic Bonito |
| Sardalya (Clupea Sardina) | Sardine |
| Sarıkanat | Younger Blue Fish |
| Sazan (Cyprinus carpio) | Carp |
| Sinarit (Dentex dentex) | Dentex |
| Somon Balığı | Salmon |
| Ton, Orkinos (Thunnus Thyannus) | Tuna Fish, Tunny |
| Turna (Sphyraena sphyraena) | Barracuda |
| Uskumru (Scomber Scombrus) | Mackerel (Atlantic Mackerel) |
| Yayın Balığı | Pike |
| Yengeç | Crab |
| Zargana (Belone vulgaris) | Garfish |
TATLICI
This is a place where they sell different kinds of sweets. There are many of them like "baklavacı", "muhallebici", "dondurmacı", "helvacı", etc.
Baklava is thin layers of flaky pastry stuffed with almond paste, walnuts or pistachio nuts in syrup. Its name comes from the shape in which is cut; lozenge-shapes.
Kadayıf is shredded wheat in syrup.
Künefe is similar to Kadayıf but it also contains cheese in it. It is served hot.
Dough-based Desserts
Dough-based desserts are "Ekmek Kadayıfı", "Revani", "Şekerpare", "Kalburabasma", "Dilber Dudağı", "Vezir Parmağı", "Hanım Göbeği", "Kemalpaşa", "Tulumba". They are all served with syrup.
Aşure, also called Noah's pudding, is made from numerous (some 40) types of dried fruits and pulses.
Kaymak is thick clotted cream eaten with most sweets as well as on its own with honey or jam.
Sütlaç is rice pudding.
Kestane Şekeri is glace chestnuts (candled chestnuts). They are generally canned or kept in glass jars of syrup. The city of Bursa is famous with its kestane şekeri.
Pişmaniye is a sweet-meat made of sugar, flour and butter which resembles flax fibers.
Tahin-Pekmez is a mixture of both tahini (sesame oil) and pekmez (molasses or treacle, heavy syrup obtained from grapes)
Helva is a flaky confection or crushted sesame seeds in a base of syrup.
Maraş Dondurması is a special ice cream unique to Turkey. It was names after the southeastern city of Maraş. It is thickened and enriched with "salep" which is obtained from the roots of the wild orchid and ground. This ice cream is beaten with a paddle. You can cut it with a knife.
TURKISH DRINKS
Turkish Coffee
Coffee-beans used to be roasted on the hearth , left to cool in a wooden bowl, ground in a brass coffee mill, and with the fresh aroma of coffee, poured into the coffee jar. The process is continued by making coffee in a little brass pot with a long handle on the brazier or a spirit stove, and finally drunk from a small porcelain cup.
According to a Turkish proverb "A cup of coffee guarantees 40 years of friendship" as you can never forget a sincere and hospitable offer of a cup of bitter Turkish coffee.
Turkish coffee is a ritual rather than a drink. Although coffee is not grown in Turkey, Turks introduced it to the western world during the Siege of Vienna in 16 Century.
It is made by mixing an extremely finely ground coffee with water and sugar. According to your taste, you should let the waiter know in advance how much sugar you like: "sade" (without sugar), "az şekerli" (a little sugar), "orta" (medium sugar) or "şekerli" (with a lot of sugar)
As the coffee begins to heat, it begins to foam. The more foam you have on the surface of the coffee cup, the more appreciation you will acquire.
Çay – Tea
The major hot drink at breakfasts, after or in-between meals, in social gatherings or formal business meetings is always tea. Turks have one of the highest consumption rates of tea in the world. Tea is widely grown in Turkey, along the Eastern Black Sea coast.
Teahouses or tea gardens are abundant and everywhere. Turkish people mostly use loose tea and make tea by using two pots, one on top of the other. The upper one is smaller. The lower one is for boiling water and the top one is for stepping the loose tea with less water. While serving the tea in the small tulip-shaped traditional glass, you will mix the two according to your taste. If you like it strong, you will add more from the top pot.
Rakı
Also called "lion's milk" Rakı is the national drink; a 90-proof aniseed- flavored alcohol. To drink "rakı" properly, one needs two long and narrow glasses. One of the glasses changes its color from a clear liquid to a milky-white when it is filled with half rake and half water.
The other is for just plain water. The etiquette is to keep the levels of the two glasses more or less the same as you continue drinking. Rakı is generally a drink that goes with a good meal. It is drunk cold, mostly with ice and requires some sort of food, the best accompaniment being some meze. The average number of glasses for one person is between 2 and 4.